Almost one in ten of the world's children are forced to work, and according to UNICEF's Advocacy Brief on Child Labour, the coronavirus pandemic threatens to increase that number.
Children are forced to work because their parents are unable to provide a normal life for them, they can't meet their basic needs or send them to school. There are many reasons for this, such as separated parents, war, or the father's death. These children often come into contact with adults that deal with substance abuse, many are sexually abused, while others are treated badly by their employers.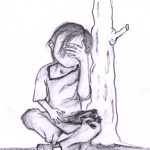 When we left my country, Syria, and emigrated to Iraq, I had to work because my father couldn't come with us. I was the only one able to work, since there were no jobs for my sister or mother, and my brother was still very young.
When I started working, I had to leave school and abandon my dream of becoming a journalist. I felt I had failed, and was always sad. I did many hard jobs such as in building construction and street cleaning, where I was maltreated by my employers, who sometimes beat us as well.
Watching some children going to school and university, while others like me had to work, made me feel miserable and a failure. Many of those forced into labour fell into substance abuse, but I managed to protect myself from that.
The great number of children, who are either in forced labour, or are victims of war, puts the future of the whole world in danger. Governments and organisations must punish all those who make children work. Making sure that children have what they need in order to live properly and be educated must be the top priority, not only for families, but for governments too, so that children can enjoy their childhood and achieve their goals. The future is in their hands, and we must do everything we can to protect it.