Many organizations are active at the Schisto refugee camp. Some of them are related to children and teenagers, some others are dealing with adults and there is another one responsible for organizing and managing the camp. 
Those who are trying to help, to train and make every day programs for children and teenagers, are the organizations "Network for Children's Rights" and "Save the children". These two, brought a container for pregnant women, infants and mothers who need to feed their babies. There, they teach young mothers, how to take care of a baby and they provide a warm female environment for them to breastfeed their kids. Also, they brought another container which is addressed to young children. There they can learn the basics of the Greek language through games, and they do painting, singing or other activities every day. The team teaches the children songs and how to make crafts. 
For the children who live at the camp, this container is the only place in the world where they can play, learn things and feel safe. They regard it as the biggest and best school in the world. 
The organization "Save the children" provides a daily Greek and English language program as well, for boys and girls. In cooperation with the "Network for Children's Rights" they also offer other activities such as sports, i.e. football and volleyball during the daily programs. Teenagers love these activities very much. 
They also provide photography lessons for teenagers who have become very enthusiastic about them. But after a while they had to stop these lessons because the camp's officials were against the project. Now we are going to start it again!
On the contrary, there is a weekly outdoor program which the officials accept, according to which the people from the organization accompany the children out of the camp for a couple of hours. Thus, the children are given the chance to broaden their horizons.                    
There are times when some children face intellectual and psychological difficulties. . In that case there are some social workers or psychologists who come to support them. 
However, in my opinion, these people instead of helping the children at the camp, they remind them all of their pain and sorrow they have in their lives. The parents are watching their children facing depression every day.  These children have lost contact with the outside world and have forgotten their childhood dreams.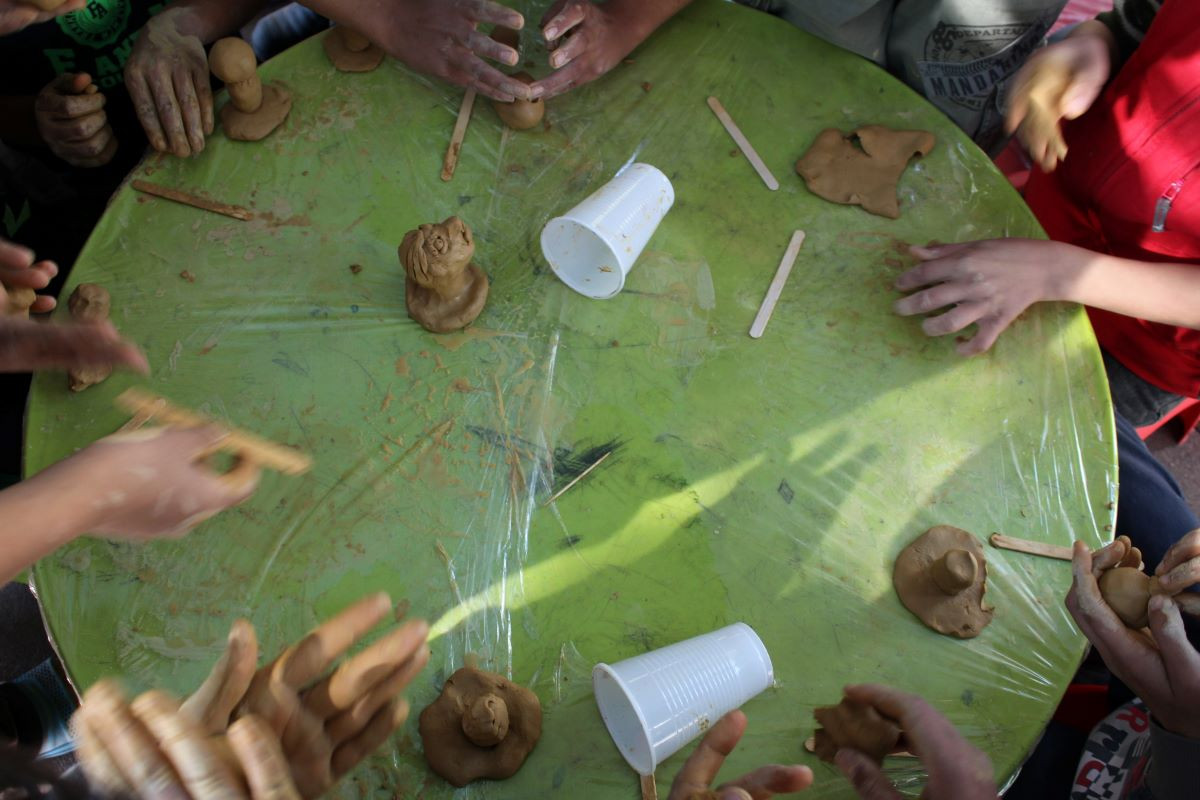 The organization "Action aid" is working with women. They support and help women in different ways. They have developed many activities for them, like hairdressing, weaving etc. But recently they stopped and I don't know why. "Action aid" also offers psychological support and consultancy to women, so that they can talk about their problems. Nevertheless, their problems are too big to be solved with just advises.  
The "SOS Children's Villages" organization are also active in Schisto. They have started with a Greek language course for people in the camp. Before them, only volunteer soldiers used to teach Greek. The "SOS Children's Villages" organization have also built a gym for men, where they can exercise and have fun. 
There is a special organization, the IRC, which takes care of the health and cleaning issues inside the camp. They provide hygienic staff for families who live in the camp. They also make sure that toilets and showers are clean and work properly. 
Unfortunately, few months ago they didn't have any solution for the biggest problem that every family faces: rats. There were a lot of big and scary rats around our habitations and we didn't know how to deal with them. The same IRC has recently started to provide cash cards for families who have been in big need.
UNHCR is another organization dealing with asylum issues for refugees. They are prepared to answer questions about the asylum process and family reunification programs.                                              
All these organizations are trying to help people and make the situation better for the refugees. Their help is important for our daily life and they probably make the refugees happy for a few moments. But all the activities that they conduct cannot heal the deep pain and the problems that the refugees face. Psychologists and social workers listen to us and give us some advices, but they are not able to understand us. 
I hope that one day there will be no refugees anymore and no need for any charitable organization.