And other questions in an unusual debate with the candidates for Mayor of Athens, organised by the Young Journalists of the Network for Children's Rights.
A different kind of debate took place on the afternoon of Friday May 3rd 2019 at the Network for Children's Rights.  Children-members of the Network invited the mayoral candidates, Pavlos Geroulanos, Nasos Iliopoulos, Petros Konstantinou, Kostas Bakoyiannis and Theodosis Benatos (who was representing Nikos Sofianos) to tell them how they themselves saw their city, and also to put some of the usual, and some unusual questions to them
Children and teenagers between 6 and 19 years of age had considered, discussed and recorded problems that they noticed in their neighbourhoods, their proposals for change, their concerns about the attitude and behaviour of fellow citizens, as well as everything they would like to know about the mayoral candidates themselves.  The latter took each question very seriously and gave their answers, explaining in detail and in simple terms their positions and their preferences, while recalling experiences and memories from their school years, as was requested.
Does global warming concern you?  What measures would you take for Athens?
Pavlos Geroulanos: We have to reduce the number of cars in the city in favour of pedestrians and public transport.  We can also use new materials on the roads of Athens that absorb heat.  No measure will be successful if its environmental advantages are not accompanied by immediate compensatory benefits for our citizens, such as the financial benefit from the use of cheap green energy or the creation of jobs.
Nasos Iliopoulos:  Athens is part of the European network of cities fighting climate change.  However, recycling is not systematic and waste harms the environment.  We can use environmentally friendly materials that don't trap heat, on roads and pavements and buildings.  What is more, Athens's public spaces need to become greener and fourthly we must exploit alternative energy sources, such as solar panels for heating water and photovoltaic panels for producing energy.
Kostas Bakoyannis: All the major cities of Europe are preparing for the post-automobile age by limiting its use in their centres.  Secondly, we must give incentives for the use of electric cars and bicycles, once we have created cycle lanes.  Thirdly, the materials already mentioned can definitely help, for example, white asphalt cools the city.  Fourthly, green spaces should be created in every neighbourhood, in the form of the so-called Pocket Parks.  Recycling, making buildings more energy efficient and so many other things, should all be part of a long-term strategy that not only applies measures to protect the environment but takes the citizens and their daily lives into consideration.
Theodosis Benatos: People think that a council offering green architecture and landscape architecture is a big waste of money so neither receives staff or funding.  Some people promote the idea of using private contractors to collect rubbish and recycling, even though they may charge more and use methods that are environmentally unfriendly such as burning waste.  The same is true of civil protection against fires and earthquakes.  Politicians have not given any serious attention to climate change, apart from privatising any infrastructure and services that could help tackle it and that are essential to the public. 
Petros Konstantinou:  Many large-scale demonstrations are presently taking place across Europe on the issue of climate change, organised by students whose basic slogan is "system change not climate change".  The main cause of climate change is the use of fossil fuels for transport and factories, because these create a hole in the ozone layer, which warms the planet.  The municipality of Athens should ban cars and diesel and promote transport running on tracks such as tram, metro and train.  What is more, Athens has one the worst ratios of green per inhabitant in Europe.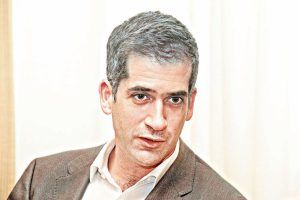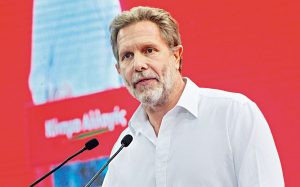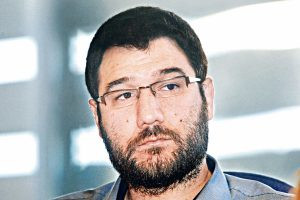 Are you aware that many refugees, including children, will shortly find themselves on the streets because the ESTIA programme that has provided them with accommodation up till now, is coming to and end?
Petros Konstantinou:  We asked this question at two council meetings.  The trouble is that when a refugee has been granted asylum, the government gives them three months notice to leave their apartment, without having first addressed the problem of their integration and employment, which would allow the refugees to rent somewhere.  We believe that this is a callous decision that should change and there have been demonstrations and strikes that have included people working in NGOs.  We will do everything we can to prevent the programme from stopping, the way we did with social housing when the municipality decided to shut it down, yet the residents are still living there two years on.
Pavlos Geroulanos:   Coordinating the various agencies that deal with programmes for refugees and drug addicts is a real issue.  Inclusion isn't just about providing shelter or rehab.  We need to see what happens before and after, for example how someone can find work after the programme is over.  Unfortunately, this is the case with all government or municipal programmes that don't offer comprehensive support to someone on their path to full integration.  They work in a piecemeal way and don't bother to communicate with anyone else.
Nasos Iliopoulos: I consider the decision to be wrong because it is based on the premise that various inclusion projects have run side by side with the provision of housing.  If this were the case then it would be acceptable to free the accommodation up for a new family.  As Pavlos said, these projects don't exist, so we can not talk about complete assimilation.  We need to link all the various programmes together, and at the same time try to find more apartments.
Kostas Bakoyannis:  We have had a lot of money at our disposal over the last three years, but we haven't used it properly.  The provision of housing is important and very valuable, and was designed to offer temporary relief.  We now need to think differently and focus on trying to assimilate each family into Greek society.  This can be done by means of reciprocal accommodation, which is a type of long-term housing, where each family member living there is obliged to develop skills, learn Greek and find work in order to become totally integrated.  Refugees and immigrants are a part of the city, and we shouldn't pretend that they are not here to stay.
Theodosis Benatos:  The programme must not be stopped, because it is not just the families that suffer; even the NGO employees working on the programme risk losing their jobs and ending up on the streets.  Neither the municipality nor the government guarantees basic rights such as housing and work, not only to refugees and immigrants but also to Greeks.  They implement programmes with an end date instead of trying to find long-term solutions.  Projects are needed because there is no overall policy that guarantees rights, work, housing, and dignity, to everyone, both in and outside the programme.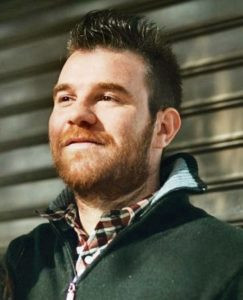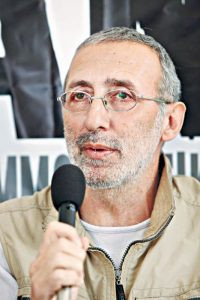 What will you do so that women and children feel safe in Athens and in areas such as Victoria Square?
Pavlos Geroulanos:  We must separate issues of safety from that of immigration, because the former is a question of infrastructure and will not be solved just by getting rid of immigrants from the city.  First of all we need to provide lighting in squares and neighbourhoods; the municipal police must be more visible in order to act as a deterrent rather than a force of repression;  and thirdly we should strengthen cultural centres such as theatres,  music schools, foundations and art groups, so that they can perform outdoor activities and breathe life into each neighbourhood.
Nasos Iliopoulos:  Everyone has the right to feel safe, regardless of whether they are Greeks, immigrants, men or women.  It is vital for a young woman to know that she can walk around the city without fear of harassment.  One of the tasks of the municipality is to prevent dereliction, not to create black holes in town.  Lighting is very important because Athens is a dark city and even though the council had the money to improve lighting, it never did.  Safe neighbourhoods are lively neighbourhoods, and a sense of community is what makes a neighbourhood safe.
Kostas Bakoyannis:  Prevention is important because it creates a friendly environment for families and a hostile one for criminals, and this is achieved by lighting, cleanliness, green spaces and people's attitude to public areas.  Law enforcement is also important and for that we can create a coordination centre, where the various agencies will work together, so that the police can be more effective in dealing with crime.  National and municipal police should patrol together, the municipal police force should be upgraded and we can use private security firms wherever necessary, as they do in the Pedion tou Areos.
Theodosis Benatos:  The invention of lighting is something of a problem in the Athens of 2019.  There is a reason why Athens is dark: the municipal lighting services are understaffed, they lack infrastructure and they are being privatised, which is very expensive.  The municipality is not and should not do the job of the police.  Thousands of policemen and women are sent to suppress demonstrations, making them unavailable locally.  The solution is not to bring municipal police into parks and squares.  Some neighbourhoods are derelict, while others are brightly lit, clean and well looked after, because there are private interests involved, and this is what should concern us.
Petros Konstantinou: In the first instance, there are the crimes of the rich, when towns and villages are bombed, people drown at sea, and businesses close down leaving workers unemployed.  And when, after all that you find yourself in Victoria Square you come face to face with the crimes of the poor.  Police, either private or public, are not the solution.  What is needed is a civic policy that will give those people rights and work, so that their lives are not dependent on criminals and they themselves are not in danger of sexual and other forms of exploitation.
Even though the candidates had other meetings to go to, they stayed on beyond the allocated time, and they could have stayed even longer because the questions were endless and there was a great desire on the part of everyone to continue the discussion.
The children did not have time to submit their final question: "Are you friends?  Will you remain friends after the elections?"  They did however state it as a wish to the candidates who said goodbye to them individually and by name.  A wish and a request for the day after the elections: that they all work together so that the rights of all children are fully observed, especially their rights as citizens of Athens.