"Every night when I go to sleep, I'm afraid I am going to die. Can you hear me?". This was the quote from a child that was living in Moria, on the island of Lesvos in Greece that inspired Nantina Tsekeri, the head and director of the Greek section of "Defence for Children International", to start the campaign "Can you hear me?", using the hashtag #dont_ leavethekidsalone.
"Defence for Children International" offers legal services and child protection services to unaccompanied minors in Greece. The idea behind the campaign "Can you hear me?" was to give children a platform from which they would send out their message, a platform for their voices to be spread throughout Europe.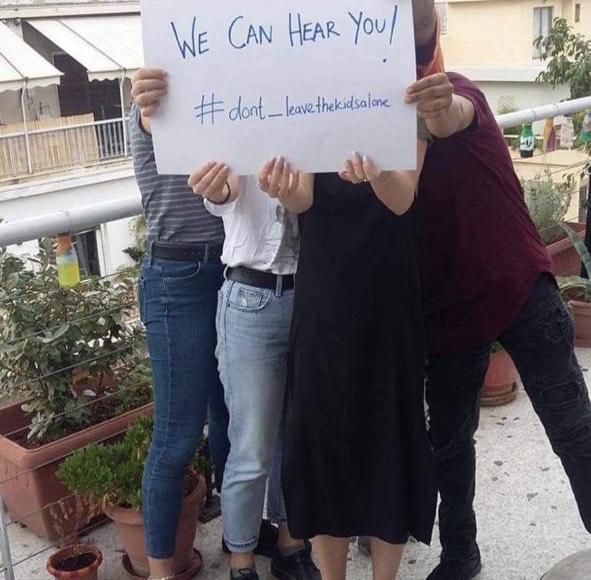 The campaign started in September 2019, in a period during which the camp in Moria was overcrowded. The section of Moria that hosted unaccompanied minors was full and the minors had overflown into the surrounding area, known as the "jungle". There, children were sleeping on the mud, without having access to food or water. 
Nantina Tsekeri described that before this campaign no one discussed the relocation of children from Moria to other countries or to the mainland. As part of this campaign, people around Europe, including of course people in Greece, took pictures holding placards that said "I can hear you!", in response to the children's question. Some months later we have reached the point where many children have already been relocated, while many more are on the waiting list. Thanks to this campaign, children have felt that they are not alone. They felt that they can actually speak out and express their feelings and beliefs, that people can actually hear them!
This campaign focuses on unaccompanied minors. But since the recent fire in the camp of Moria, the focus has shifted to the thousands of children that are trapped around the area. These children are not unaccompanied, but they are very young (under the age of 5) and have been living under extremely difficult conditions. So, according to Ms. Tsekeri, there is now an even greater need to add more pressure and ask for their relocation to other Εuropean countries, along with their families. Fortunately, after the fire in the camp of Moria, unaccompanied minors were transferred to the mainland.
Ms. Tsekeri explained that they do not really know what will happen now. She hopes they will be able to continue their campaign and that the European Union will rise to the occasion. There have been so many calls to take action now and so much awareness about the situation, that people are expecting the E.U. to take more decisions for relocating more people to other European countries.
If you believe that children are innocent, that they are not responsible for the war going on in their countries, that they did not choose to leave their homeland and to be migrants, take action and bring a change to their lives, a change that they deserve! If you are not so sure about it… then at least hear what they want to share with us.