We want to be part of the decision-making processes that affect our lives, but often our voices are not heard.
Adolescents and young people aged 14 to 34 have the opportunity to share their views on issues that concern them and actively participate in democratic life, through the international platform U-Report.
U-Report Greece, from UNICEF Greece Country Office and the Network for Children's Rights, operates with monthly polls to which participants respond via Viber, Facebook Messenger and WhatsApp. The polls address political and social issues, such as young people's expectations from local authorities, mental and physical health, childhood obesity and nutrition, climate change and more.
The platform functions as a tool for data collection and then becomes available to bodies responsible for decision-making. Thus, policies that are developed are more likely to take into account the needs of adolescents and young people, but also promote the rights of children.
The topic of the current poll is the social integration of immigrants and refugees and healing. People aged 14-34 can take part in the poll, and share their thoughts on the importance of integrating immigrants and refugees into Greek society.
Join by texting "JOIN"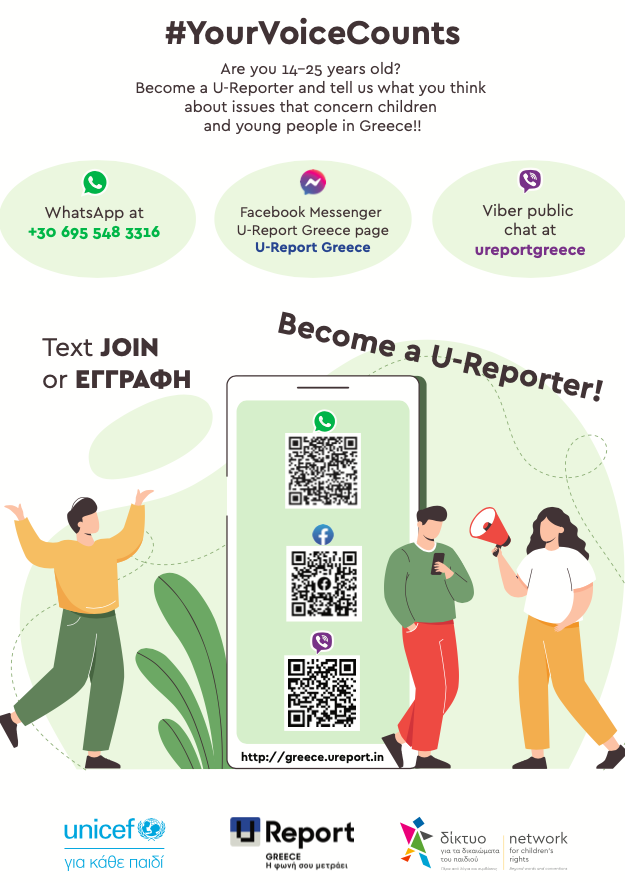 1. through Viber's public chat at "ureportgreece"
2. through Facebook Messenger at U-Report Greece
3. through WhatsApp at +30 695 548 3316
For more information visit our website at: https://greece.ureport.in/join/