Christmas is one of the most important holidays of the year. People all around the world start decorating their houses, streets and shops as early as November. There is something very special and moving about buying presents for your loved ones. The warm feeling of Christmas is so magical, that you can really feel it inside you.
I can still remember the previous December. It was fun and festive, with everyone out and about with their families, buying presents. So many people! Couples were holding hands, without having to socially distance or worry about someone not wearing a mask. The sparkle of Christmas lights and colourful decorations made the streets of Athens as bright as daylight. People queued at bakeries to buy fresh traditional sweets, such as melomakarana and more, while a sweet sugary smell hovered in the air.
Christmas is nearly upon us, but sadly nothing is the same this year. The streets are cold and empty because there is no one around. The Christmas decorations in Syntagma Square in Athens are almost double what they were last year. The same is true of every central neighbourhood in the city. They are all really bright and ideal for taking photographs, but unfortunately we are not allowed to do so, because we have to abide by all the restrictions. People are afraid to go out because of Covid-19, the lockdown and the 9 o'clock curfew.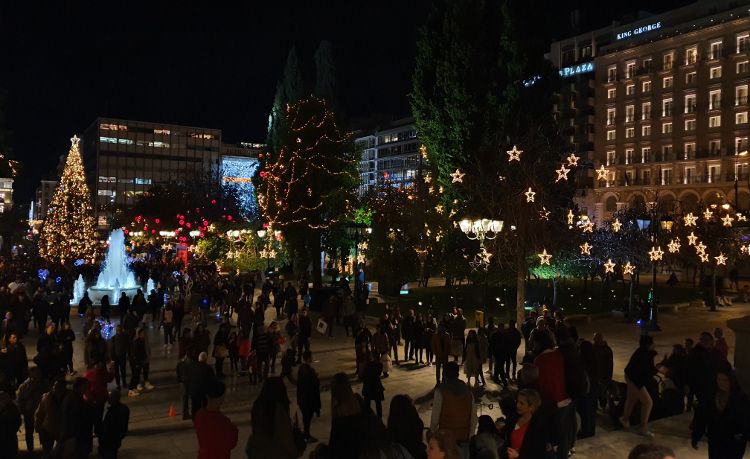 This Christmas, present buying is different. It was announced that shops will remain closed. However, due to the extreme workload faced by courier companies, you are allowed to collect items that you have previously ordered, from the shops themselves. The system is called «click-away» and will run till January 7th. Only one person can go to the shop and can collect an order that was previously placed either online or by phone. That's not fair, because children have been waiting a whole year to go Christmas shopping with their parents. Unfortunately, they can't even do that this year.
This state of affairs makes me sad, because Christmas is one of my favourite holidays. Last year, walking home from Syntagma Square, I could really feel the magic as I saw people laughing and happy, full of excitement, in festive mood, and clearly enjoying life!
I wish this world crisis would end soon, so that we can all celebrate our favourite time of year once more! I feel sorry for all those people who were waiting a whole year for Christmas, like I was. I wish you a healthy and Covid-19-free Christmas!