Tilos is a small island located in the eastern Aegean Sea, Greece. It is part of the Dodecanese group of islands and lies midway between Kos and Rhodes. This small island has caught the attention of many people, has won the EU Sustainable Energy Award of 2017 with its renewable energy-based battery station and smart microgrid, and is considered to be Europe's friendliest, most peaceful and eco-friendly island. Why and how?
The current population of Tilos is 780 inhabitants. In such small communities people know each other. Small and strong communities are built of social offerings, education, basic services, great leadership, economy and safety. You might ask: How welcoming can such a community be to different people, such as refugees, including families with young children? The answer is surprising.
I decided to talk to the soul of the community, the Mayor of Tilos, miss Maria Kamma-Aliferi.
What is your favourite thing about the island of Tilos and what is it like being a mayor?
I adore my island! It is known to tourists during the summer, but I think its true beauty is during the winter and spring, when everythin is in bloom. So, I think my favourite thing about Tilos is its nature.
Being a mayor in general, is not easy. It is a very cruel field, especially for a woman. You have to deal from simple issues of everyday life, up to very difficult social and universal issues, such as the refugee issue that we dealt with, here on Tilos.
What made the community of the island of Tilos decide to support the refugees?
The community of Tilos believes in human values. The reaction of the municipality and the people of the island, to reach out their hand to the refugees, came out so naturally. The city council of Tilos was the first – in the whole of Europe I think – that unanimously decided to accept and host refugees in its community.
We took a decision that the refugee issue is not always a problem, but can be an opportunity for the growth of some communities, such as Tilos, so we kept some families to live here, in harmony with us. We are trying to give to refugees -that were forced to leave their homes and countries in such a violent way- a second chance to relocate to a calm environment, on a beautiful island and start their lives over. We are trying to achieve actual integration. We don't think refugees are different from us. That is exactly why we opened our schools to refugee children. Whatever activity our children do, refugee children participate in it too.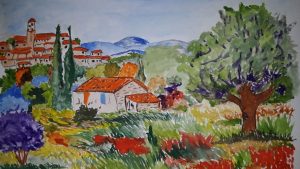 How many refugees does Tilos accommodate at the time?
At the time we have 6 families that live here. They are mostly single parents and many babies. It is my goal for this year and I have also let my colleagues know that we must have at least one family to live and work on the island with us.
If you had the chance, to change overnight one thing about refugee livability – what would it be?
I would grant asylum to the families Ι have here on the island and persuade them to stay, because they want to stay in Tilos and work here.
Do you have a message for other people and mayors who oppose the presence of refugees in their cities?
I don't know if you are aware of what I have been through in order to get here. I've been bullied for standing next to refugees. It wasn't easy and especially for a woman Mayor (we are not that many), when I was almost the only one to step forward and say that we have to support these people, I have been the recipient of sexist and ironic comments. They were making fun of me calling me "Mother Teressa of refugees", but I take pride in that. Tilos has only benefited from the refugee issue, it didn't lose and I believe that all other communities can be benefited from the coexistence with refugees.
During our discussion I noticed that in her office she had a picture of Melina Mercouri, actress and politician. I'm really impressed and inspired by the mayor of Tilos, miss Maria Kamma-Aliferi. It was a proud moment for me to see such an empowering woman in this position! She is an inspiration to all and a pure feminist figure.